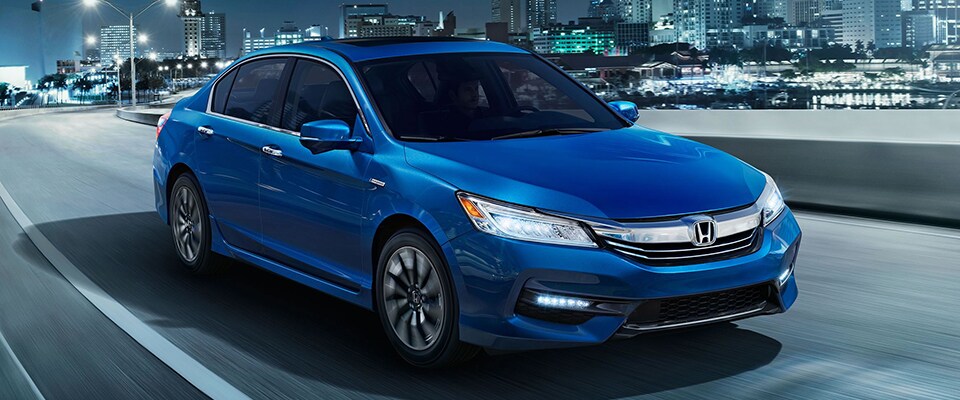 The new 2017 Accord Hybrid models at Honda of Slidell are both technologically sophisticated and uniquely stylish. Why would Slidell, Louisiana residents settle when they can have the best of both worlds? 2017 Honda Accord Hybrid models are pushing the envelope and defining modern day automotive innovation, putting our South Louisiana customers at the forefront of today's eco-friendly revolution.
Call (888) 296-2638 To Learn More about the 2017 Accord Hybrid!
Styled to Stimulate
New 2017 Accord Hybrid models at Honda of Slidell feature a striking front end to go along with their ultra-sleek bodylines, ensuring you'll always be looking sharp as you navigate the busy streets and highways of South Louisiana. The bold, angular lines of these innovative hybrid models are paired with a selection of beautifully designed wheels that help create a stunning profile that is immediately eye-catching and sometimes envy-inspiring.

Honda Accord Hybrid includes an industry-first two-motor hybrid system that uses one motor to accelerate from a dead stop, and a second to start the engine and charge the first motor. For 2017 Honda Accord Hybrid owners in Slidell, Louisiana that are looking for some added excitement, switching to Sport Mode allows them to tap into both motors for enhanced acceleration and extra exhilaration no matter where they happen to be traveling.
Inviting Hybrid Interior
The inviting cockpit of the 2017 Honda Accord Hybrid offers a host of sophisticated design cues that include a color Multi-Information Display, stylish leather accents and more. New Accord Hybrid models at Honda of Slidell help to simplify your everyday drive with it's new interior design that includes available driver memory seats with two different positions that can be saved. The innovative interior design of the 2017 Honda Accord Hybrid is just one more reason these ultra-efficient models are so popular in New Orleans, and across South Louisiana.

With spacious seating for up to five, as well as all the interior space you'll need for any occasion, the new 2017 Honda Accord Hybrid is the ideal vehicle option for any situation. Every feature you'll find in these exciting new Accord Hybrid models was inspired by the wants and requests of our South Louisiana customers. Premium technology that serves a eco-friendly purpose is what owning a Accord Hybrid is all about, and the new 2017 models at Honda of Slidell are a perfect example of this.
Call (888) 296-2638 To Learn More about the 2017 Accord Hybrid!
The 2017 Honda Accord Hybrid is Available in the Following Trims
Honda Accord Hybrid

Honda Accord Hybrid EX-L

Honda Accord Hybrid Touring

Honda of Slidell serves customers from New Orleans, Mandeville, Covington, Slidell, and all of the surrounding communities, helping them find the new 2017 Accord Hybrid model that perfectly suits their South Louisiana lifestyle. We take pride in the exceptional level of customer service that our dealership is known for providing, and we work hard to make sure that every customer that enters our dealership leaves satisfied. When it's time to purchase your new 2017 Honda Accord Hybrid, come by and let our friendly sales personnel go over all of the options available to you.