Tire Repair near Me

There are many reasons why you need to have good-quality tires on your vehicle. But one of the biggest reasons is that you'll have maximum grip on the road so you can stay safe when driving around Slidell, Picayune, and St. Tammany Parish.
If any tire experiences a puncture, loss of tread, or any other issue, it'll need to be addressed right away. Luckily, the Honda of Slidell Service Center can provide any type of tire work your vehicle may need.
Keep reading to learn about our services, then contact us to get tire repair near you.
Types of Tire Repair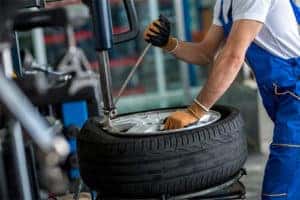 At our tire center, we'll handle all different kinds of repairs. From making sure the tires have enough pressure to performing rotations and balances, it can all be done here.
You may get a flat tire at some point from driving over a nail or other object. If the hole is small enough, our team can plug it up in no time. We can also patch up the puncture to ensure that it doesn't open back up.
However, there are instances when a simple repair won't do. For example, if a nail gets into the shoulder or sidewall of the tire, a plug or patch can't be done. Plus, if the hole is larger than ¼ inches in diameter, or you have multiple punctures that are very close together, then the tire will need to be completely replaced.
Getting New Tires near Me
Tires will also need to be replaced for the following reasons:
Cracks or bulges in the sidewall
Dry rot
Complete loss of tread
If you need a new set of tires, then bring your car to our advanced tire shop. Here, you'll find a wide selection of tires from top-named brands like Bridgestone, Goodyear, and Michelin.
We'll make sure you get high-quality tires that are designed specifically for your automobile. That way, you can continue to drive around safely for many more years and miles.
Schedule Tire Repair near You Today
At Honda of Slidell, our certified technicians will make sure your tires are in tip-top shape, whether that means repairing them or giving you brand-new ones.
If you need tire service near Slidell, Picayune, or St. Tammany Parish, don't wait. Make an appointment with our service center today!