Honda Sensing® Review

Honda vehicles, from the Civic to the Pilot, offer a range of unique technology features. These are systems that add more convenience to your life, make your time inside your car more entertaining, and help you safely navigate your way around Slidell and New Orleans, LA, and Picayune, MS.
As for those Honda safety features, many of the models we have here at Honda of Slidell feature Honda Sensing®. What is Honda Sensing®? Below, we cover what this innovative package of Honda safety features is and what each technology does.
What Is Honda Sensing®?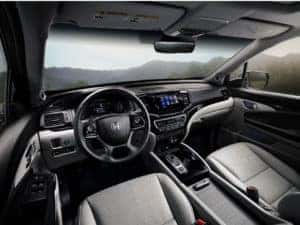 Honda Sensing® is a suite of driver-assistive features designed to provide you with more confidence and peace of mind while behind the wheel. That is because the purpose of these intelligent systems is to keep you aware of everything that is happening around you while driving.
By sending you audible or visual alerts and even taking control in certain situations, these systems help you keep out of harm's way while driving. Now, let's look at the specific Honda safety features that are a part of Honda Sensing® and how each of these technologies helps make your ride a safer one.
Keeping a Look Out Ahead
Let's say a vehicle cuts in front of your path to make a left turn or the vehicle ahead of you suddenly hits its brakes. Collision Mitigation Braking System™ (CMBS™) can instantly detect what is happening and alert you so you can brake to avoid a frontal collision. This system can even apply the brakes automatically to slow you down quickly when it senses a collision is about to happen.
Making Sure You Stay Safely Within the Lines
Honda Sensing® even features systems that make sure you stay safely within the lines of the road or your lane while driving. If you accidentally start to drift, the Road Departure Mitigation System will send you a warning that you are beginning to leave the roadway.
It then can provide steering assistance and apply the brakes if needed to help you get back within the lines of the road. Another technology is the Lane Keeping Assist System, which uses cameras to detect lane lines to adjust your steering so you stay centered when driving on the highway.
A Safer Commute Along the Highways

There are also systems that help while you are cruising along the highways, whether you are headed to work or are on a long road trip. With Adaptive Cruise Control, your Honda can keep you safely traveling with the flow of traffic.
This system will maintain your desired speed without you having to press the gas pedal. You won't have to worry about braking either since it will automatically slow you down so you maintain a safe following distance from the car in front of you.
Select models offer the Blind Spot Information System. If a car is approaching from an adjacent lane, this system will alert you so you know to wait until they pass before you change over into that lane.
Learn More About Honda Safety
With a new Honda, you can enjoy a safer commute as you travel around Slidell and New Orleans, Louisiana, and Picayune, Mississippi, thanks to the help of these advanced safety technologies!
Contact us today to learn more about Honda safety and see which models we have for sale include the added peace of mind that comes with Honda Sensing®! Schedule a test drive in a Honda with us here at Honda of Slidell so you can see how these features work.